Africa-focused oil and gas company BowLeven said Friday that it had noted the recent movement in its share price and confirmed that it is unaware of any particular reason for the sudden increase.
BowLeven's share price had reached 2.33 British Pence a share, having traded at around one pence a share for the previous month, before dropping to 1.60 British Pence Friday morning.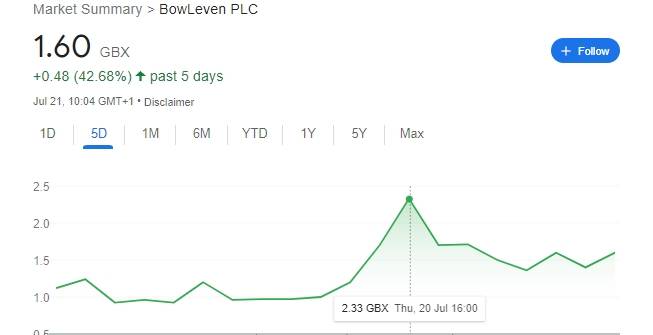 BowLeven on Friday reminded that it, in its interim results statement on March 30, 2023, had noted that it had been considering its fundraising options and expects to seek to raise additional equity capital in 2023 to help to finance the Group's ongoing corporate activities and to assist financing its share of the future expenditure as the Etinde offshore project in Cameroon progresses towards FID.
"Planning for an equity fundraising has continued since then but is not yet at an advanced stage and there can be no certainty that a fundraising will be concluded, nor as to the structure or terms of any such fundraising. The company continues to await the completion of the sale by New Age of the 37.5% stake in Etinde to Perenco and understands that this continues to be progressed by both parties," Bowleven said.
The Etinde Permit (former Block 7) lies in shallow water in the Rio del Rey Basin, offshore Cameroon, and comprises four proven reservoir intervals within the Pliocene and Miocene formations.  
The block with an area of 460 km2 is located in the Cameroonian waters of the Gulf of Guinea, 20 km offshore right near the border with Equatorial Guinea. Water depth at the block ranges between 10 and 100 meters.
In July 2022, Perenco moved a step closer to acquiring New Age's interests in the Etinde permit, and operatorship of the Etinde JV, after New Age's partners Bowleven and Lukoil chose not to exercise their pre-emption rights.
Also, here is what Eli Chahin, Chief Executive Officer of Bowleven plc, had to say in the March 30 statement, to which BowLeven referred on Friday: "We remain on the verge of what we believe to be a major turning point in the business with the expected upcoming change of the Etinde operatorship once Perenco secures regulatory approval. 
"This is expected to be a key milestone in progressing what is hoped to be a transformational energy project for Cameroon, accelerating what has to date been a challenging timetable towards hydrocarbon production at Etinde for the benefit of all the JV Partners. As demonstrated by the recent signing of a bilateral co-operation agreement on hydrocarbon monetization with neighboring Equatorial Guinea, we are on the cusp of a new energy horizon for Cameroon that will impact the lives of many. We look forward to keeping our shareholders abreast of the anticipated positive developments over the coming months."
The Etinde JV partners concluded in December 2021 that the development option of exporting gas to Equatorial Guinea ('EG') was the preferred choice in terms of value, risks, and benefits to Cameroon and each individual joint venture member.