Ethereum has fallen short of expectations in terms of network activity following the much-anticipated Shanghai upgrade implemented in April. While the crypto community had high hopes for this upgrade, it appears that the results have left many disappointed, according to JPMorgan.
JUST IN: JPMorgan says Ethereum has been disappointing since its Shanghai upgrade.

— Watcher.Guru (@WatcherGuru) September 22, 2023
The transition from proof-of-work to proof-of-stake, known as the Merge , was expected to revolutionize Ethereum. The upgrade was aimed at drastically reducing its energy consumption. In fact, it succeeded in reducing energy usage by over 99%. However, despite this remarkable achievement, the Ethereum network has not seen the surge in activity that was anticipated.
Also read: US Government Indicts Senator Bob Menendez For Bribery
JPMorgan analysts, led by Nikolaos Panigirtzoglou, expressed their concerns in a recent note. They pointed out that while Ethereum's energy consumption plummeted, the supply of Ethereum was shrinking. Additionally, staking had risen significantly, with a 50% increase since the Shanghai upgrade. Surprisingly, these positive developments did not translate into increased network activity.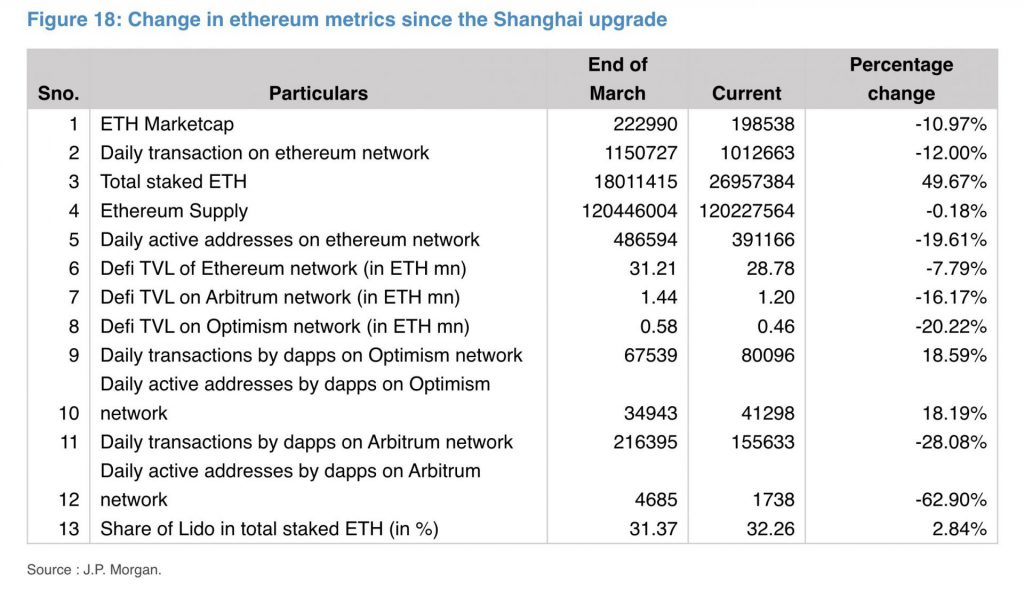 Ethereum's vital metrics, including daily transactions, daily active addresses, and the total value locked (TVL) in decentralized finance (DeFi) protocols, have all experienced declines. These numbers are crucial indicators of the network's health and adoption, and their downward trend is a cause for concern.
JPMorgan's analysts attribute Ethereum's lackluster performance to a combination of "bearish forces" that have plagued the cryptocurrency ecosystem over the past year. These include the collapses of platforms like FTX and Terra, the uncertainty surrounding U.S. regulatory measures and crackdowns, waning interest in crypto among institutional investors, and a drying up of venture capital funding.