InferKit AI: Is InferKit Free? Exploring Pricing Plans and Customizable Options
The battle to create original and interesting material is a typical difficulty in content development.
Fortunately, a potent answer for content producers across multiple industries has arisen in the form of InferKit, an AI-powered text-generating tool.
But the crucial query is still open: Is InferKit free?
To assist you in making an informed choice regarding this ground-breaking technology, we will examine InferKit's offerings, pricing schemes, and customizable features in detail in this extensive post.
So let's get started!
Also read: Can Meta's Upcoming AI Model Take Down OpenAI?
What is Inferkit?
Adam Daniel King created InferKit, which has become very well-known for its distinctive capabilities in AI-powered content creation.
The tool, which was initially introduced as "Talk to Transformer," immediately gained notoriety for its capacity to create original material.
InferKit's most recent upgrade incorporates long-short-term memory (LSTM) functionality and harnesses the power of a sophisticated neural network.
InferKit can now guess text based on context and learn from samples rather than just producing random characters.
Also read: BRICS: Saudi Arabia Will Become the Next Europe, Says MBS
InferKit's Pricing: Is it Free?
Regarding pricing, InferKit offers free and paid plans to cater to different usage levels.
Let's explore the details of each plan:
Free Trial/Demo
If you're curious about InferKit but not ready to commit to a paid subscription, you can take advantage of the free trial or demo.
With this option, you can generate a maximum of 10,000 characters per week.
It's a great way to experience the capabilities of InferKit and get a feel for its potential before making a decision.
However, it's worth noting that app developers do not have access to the API in the free trial, which means integration with their apps is impossible.
Paid Plans
For users requiring more extensive usage, InferKit offers two subscription plans: the Basic and Premium plans.
The Basic plan, priced at $20 per month, provides a monthly character limit of 600,000.
This plan includes API access, allowing seamless integration with other software and services. If you need even more characters, the Premium plan, priced at $60 per month, offers a generous monthly character limit of 2,500,000.
Similar to the Basic plan, the Premium plan includes API access and ensures that you have ample resources to meet your content generation needs.
Additionally, if you find that your character usage exceeds the limits of your selected plan, you can purchase additional characters starting at $0.12 for every 10,000 characters per month.
InferKit: A Trailblazer in AI Text Generation
Now that we've covered InferKit's pricing plans, let's explore what makes it a valuable tool in the content creation landscape.
Here are some key features and benefits of using InferKit:
User-Friendly Interface
InferKit offers an intuitive web interface that caters to both novices and experts in content creation. Its simple and user-friendly design allows you to input your desired text, and the model generates text to your specifications.
Whether you're a seasoned writer or new to the field, InferKit's interface ensures a seamless and efficient content creation process.
Customizable Options
One of InferKit's standout features is its extensive range of customization options.
Thanks to its advanced natural language processing (NLP) technology, InferKit can generate text in various styles, catering to different industries and applications. Here are some of the customizable options available:
Text Length Options: InferKit allows you to set the desired length of the generated text, ensuring it aligns with your specific requirements.
Keyword Feature: With the keyword feature, you can provide specific keywords or phrases to guide the text generation process, enabling you to focus on relevant topics.
Sampling Temperature: InferKit allows you to adjust the sampling temperature, influencing the creativity and randomness of the generated text. Higher temperatures produce more diverse outputs, while lower temperatures produce more focused and deterministic results.
Nucleus Sampling: This feature helps control the diversity of the generated text by limiting the set of possible words to a specific subset, ensuring more coherent and relevant outputs.
Batch Requests: InferKit supports batch requests, allowing you to generate multiple pieces of text simultaneously, saving time and increasing efficiency.
Security Assurance
InferKit understands the importance of security and privacy, especially when dealing with sensitive content.
The platform prioritizes data protection by employing encryption technologies and continuously updating its security measures to ensure your content remains safe and confidential.
Putting InferKit to Use: Its Wide Applications
InferKit's versatile capabilities make it a valuable tool for various applications.
Whether you're a novelist, marketer, student, or blogger, InferKit can enhance your content creation process. Let's explore some of the key applications:
Writing Assistant
For novelists and writers, InferKit can serve as a valuable writing assistant. It inspires plot development, character creation, and dialogue, helping you overcome writer's block and generate fresh ideas.
Marketing Copy
InferKit's text-generation abilities can be harnessed to create persuasive and engaging marketing copy.
Whether you need content for advertisements, email campaigns, social media posts, or other marketing materials, InferKit can provide relevant and tailored text to captivate your target audience.
Academic and business writing
Students and professionals can leverage InferKit to streamline their academic and business writing processes.
Whether you're working on research papers, reports, essays, or any other written content, InferKit can generate high-quality text, saving you time and effort.
Blogging and content creation
Digital creators and bloggers can benefit from InferKit's capabilities to craft engaging and SEO-optimized content.
Whether you need assistance generating blog post ideas, optimizing your content for search engines, or creating informative articles, InferKit is a versatile tool that can help elevate your content strategy.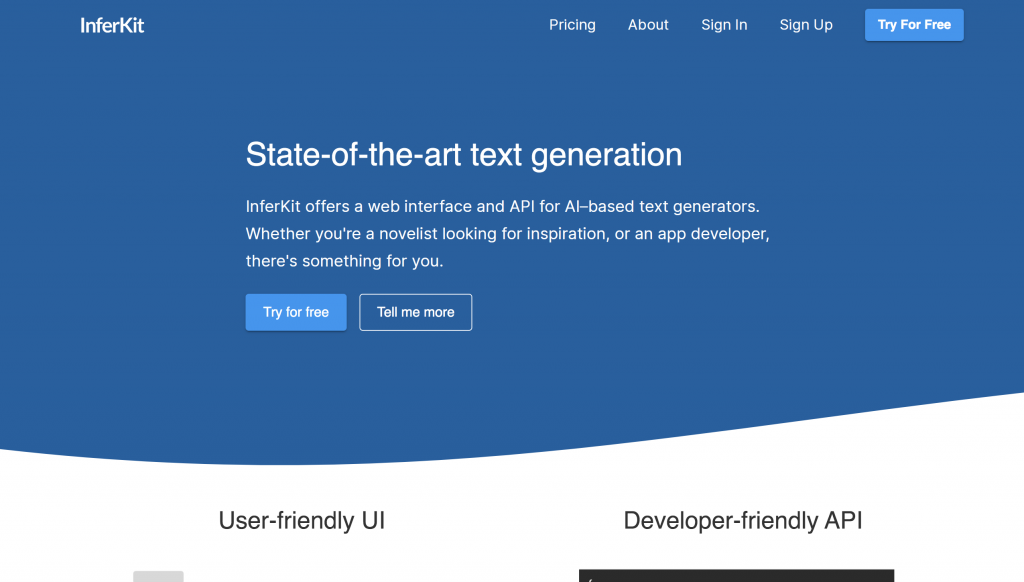 Unlock the power of AI-driven content creation
InferKit is just one of the many innovative tools revolutionizing the content creation landscape.
Furthermore, with its customizable options, user-friendly interface, and wide range of applications, InferKit empowers content creators to generate unique and engaging text.
If you're a writer, marketer, student, or blogger, InferKit can be your reliable companion in AI-driven content creation.
Frequently Asked Questions (FAQs)
To address common inquiries about InferKit, here are some frequently asked questions:
Q: How can I increase the InferKit limit?
If you find that your usage is exceeding the limits of your selected plan, you have a couple of options. Consider upgrading to a higher-tier plan that offers a higher character limit.
Alternatively, you can contact InferKit's customer support team to discuss custom plans catering to your specific needs.
Q: What are the alternatives to InferKit?
While InferKit is a powerful AI text generation tool, several alternatives are available.
Some popular alternatives include ChatGPT by OpenAI, DeepAI, Jasper, WordAI, Writesonic, and Copy.ai. It's worth exploring these alternatives to find the one that best suits your requirements.
Q: Is InferKit free?
InferKit offers both free and paid plans. The free plan, known as the InferKit Demo, allows you to generate a limited number of weekly characters. This is a great option for users who want to test the service before committing to a paid subscription.
Q: Is InferKit reliable?
InferKit is designed to provide accurate and consistent output. However, like any AI-based tool, its reliability can sometimes depend on the quality of the input provided. It's important to provide clear instructions and review the generated text to ensure it aligns with your requirements.
Conclusion: InferKit AI: What is it?
In conclusion, InferKit has emerged as a revolutionary AI tool, captivating writers, developers, and content creators with impressive capabilities.
With its user-friendly interface, customizable options, and affordable pricing plans, InferKit empowers users to enhance their workflow and generate AI-created text content.
If you're a novelist seeking inspiration, a marketer needing persuasive copy, or a student aiming for high-quality academic writing, InferKit is here to help.
So why not give it a try? Explore the possibilities of InferKit for free today and embark on a journey of AI-driven content creation. Happy writing!