Oil major BP has selected offshore installation contractor Allseas to complete the subsea pipelay scope for its ultra-deepwater Greater Tortue Ahmeyim (GTA) natural gas project offshore Mauritania and Senegal.
Allseas will conduct the offshore pipelay works in early December 2023 using the world's largest construction vessel, Pioneering Spirit. Installation support will be provided by Allseas' offshore construction support vessel, Oceanic.
The contract, of an undisclosed value, covers the installation of approximately 75 kilometers outstanding on the two 16-inch export pipelines with field termination assemblies (FTAs) in water depths between 1,500 and 2,800 meters, and four 10-inch CRA infield lines with FTAs up to two kilometers long in 2,800 meters of water.
According to Allseas, Allseas' and BP's commercial and engineering teams "worked tirelessly" to evaluate the technical feasibility of installing the pipelines and subsea structures, which were originally designed for installation with a J-lay solution.
"This agreement demonstrates both our willingness and ability to take on highly complex and pipelay projects with fast-track planning and execution scopes," says Pieter Heerema, Chief Executive of Allseas.
"We are excited to work with BP on this project, this opportunity re-establishes the partnership between our two companies and creates a platform on which to grow and strengthen future collaboration between BP and Allseas."
The installation of mixed-diameter pipelines and subsea structures in ultra-deepwater is the perfect fit for Allseas' S-lay vessel Pioneering Spirit, which boasts a record-breaking 2,000-tonne tension holding capacity. To install the 10 FTAs, the vessel will be fitted with a special 1,000-tonne J-mode installation frame, designed in-house and built at Allseas' Heijningen fabrication yard in the Netherlands.
"As pioneers of dynamically positioned S-lay technology, characterized by its fast installation speeds in all water depths, Allseas has installed more than 27,500 kilometers of pipeline worldwide," Allseas said.
Greater Tortue Ahmeyim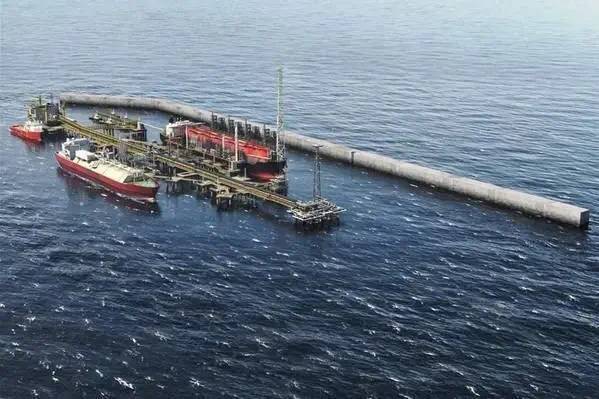 Greater Tortue Ahmeyim project illustration – Credit: BP
Kosmos Energy discovered the Greater Tortue Ahmeyim field in 2015, and BP signed onto the project through an agreement with Kosmos in 2016.
BP is the project operator. The partners sanctioned the first phase of the project development in December 2018. The project's first phase is set to produce around 2.3 million metric tons of LNG per year.
The project comprises both FPSO and FLNG facilities. The FPSO will process natural gas – removing condensate, water, and other impurities – before exporting it by pipeline to the project's FLNG facilities, 10 km offshore. With eight processing and production modules, the FPSO will process around 500 million standard cubic feet of gas per day. 
According to BP, the majority of the gas will be liquefied by the FLNG facilities and exported to international markets, while some will be used to meet growing demand in the two host countries. Condensate will be periodically transferred from the FPSO to shuttle tankers for export to market.
The FPSO will sit in about 120 meters of water, accommodate up to 140 employees during regular operations, and serve as the home for the project's production team. 
The FPSO measures 270 meters in length, 54 meters in width, and 31.5 meters in depth. With an area equivalent to two football fields and as tall as a 10-floor building, the FPSO is made of more than 81,000 tonnes of steel, 37,000 m of pipe spools, and 1.52 million meters of cable. 
Golar LNG is responsible for the delivery of the FLNG unit. It said in August that the Golar Gimi FLNG unit, being built for BP's Tortue Ahmeyim project, was scheduled to leave the yard in Singapore around the end of September or early October. AIS data shows the vessel is still in Singapore, as at October 5, 2023.